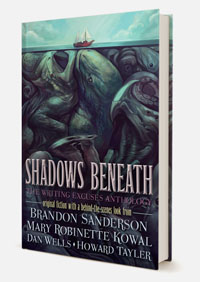 SPOILER ALERT!
This is our fourth and final SHADOWS BENEATH story critique episode. This episode's story, "An Honest Death," by Howard Tayler, is available as part of the aforementioned Writing Excuses anthology, pictured there on the right, which includes the the draft we critiqued in this episode along with the final version.
We still have a few of the first-printing hardcovers left, and if you purchase the hardcover, we'll send you the electronic edition at no additional charge.
This week we find Howard in trouble. He is, in a word, stuck.
Can our heroes help him? Can special guest Eric James Stone lend enough of his special guest expertise to complete the rescue?
We start with a discussion of what was working, so that Howard doesn't accidentally "fix" something that isn't broken. Then we wade into the weeds and go hunting for the pieces he needs in order to finish the story. And when we say "the weeds," we're talking serious wandering. The episode runs a full half-hour long…
Podcast: Play in new window | Download (Duration: 33:00 — 22.7MB)
Subscribe: iTunes | Android | RSS
Writing Prompt: You have, with actual paint, painted yourself into an actual corner. But the paint and the corner are in a world in which there is magic, and "you painted yourself into a corner" may very well be some sort of a spell.
Audiobook Pick-of-the-Week: The Firebird, by Susanna Kearsley, narrated by Katherine Kellgren
This episode of Writing Excuses has been brought to you by Audible.
Visit http://AudiblePodcast.com/excuse for a free trial membership.
Audible Free Trial Details
Get an audiobook of your choice, free, with a 30-day trial. After the trial, your paid membership will begin at $14.95 per month. With your membership, you will receive one credit every month, good for any audiobook on Audible.
Cancel anytime, effective the next monthly billing cycle. Cancel before your trial ends and you will not be charged. Check out the full terms and policies that apply to Audible membership.)